Biography
Rev. Anya Sammler-Michael and Rev. Scott Sammler-Michael
---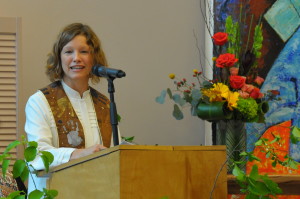 Rev. Anya Sammler-Michael
Rev. Anya Sammler-Michael graduated from Meadville Lombard Theological School in 2007. Her first call was to the Unitarian Universalist Congregation of Sterling, in Sterling, Virginia, where she served for 10 years before joyously accepting the call as a co-minister with Rev. Scott Sammler-Michael to the Unitarian Universalist Congregation at Montclair.
Rev. Anya grew up in North Branford, Connecticut, where she learned to love the ocean, played countless sports, spent hours in the wild, and cared for injured animals. Her parents both worked at the Yale School of Drama, and this early exposure to theater attuned her to the gifts of the lively arts, especially their ability to encourage empathy and understanding. Starting at age 8 with her parents, she saw August Wilson's series of 10 plays about race in America. This experience, coupled with personal encounters with Mr. Wilson, had a lasting impact on her life, calling her specifically to racial justice work.
In college at the University of the South, Rev. Anya studied philosophy and fine arts, as she worked to build bridges of understanding between diverse social circles. She has worked as a fine art photographer, darkroom artist, caterer, and chef. She first felt the call to ministry as a youth in her Unitarian Universalist Youth Group, but then discovered her call again, in young adulthood, before pursuing seminary.
In ministry, Rev. Anya focuses on building interfaith relationships, reaching across the partisan divide, and honestly confronting the evils of racism, xenophobia, and homophobia. In her sermons she stresses humility, compassion, and relationship–both with one another and with that which we deem holy.
Rev. Anya has received awards and recognition for her interfaith work and has been elected by her colleagues to serve twice on the chapter executive team. Both Michelle and Barack Obama had Rev. Anya offer invocations at campaign events.
Rev. Anya is an avid cook and lifelong vegetarian. She practices Vinyasa, Bikram, and Yin yoga. She considers yoga, meditation, and prayer all integral to her spiritual practice.
---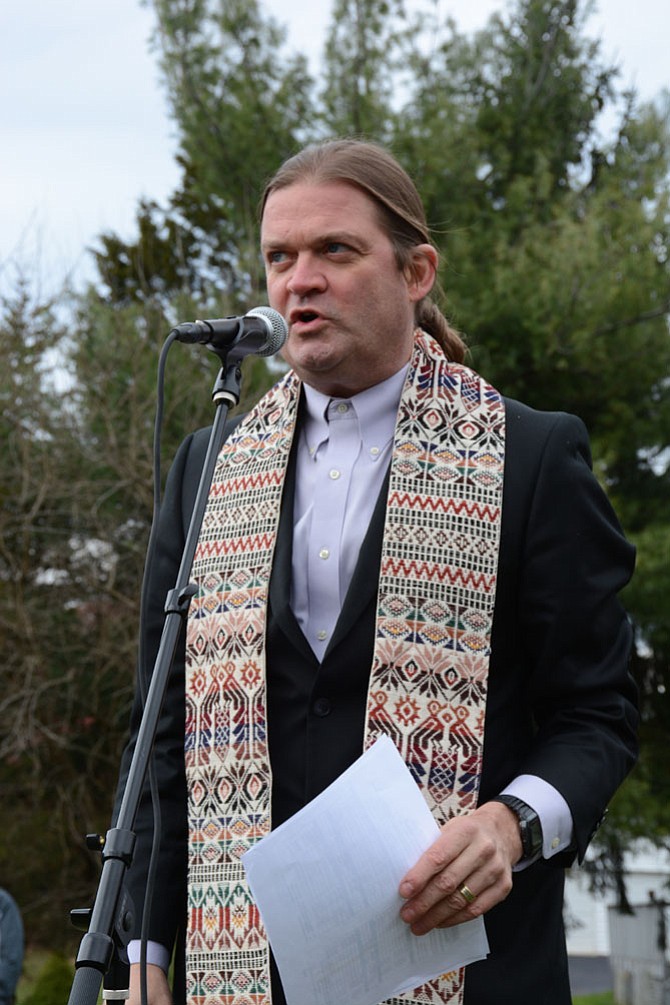 Rev. Scott Sammler-Michael comes to the Unitarian Universalist Congregation at Montclair after nine years of service to the Accotink UU Church in Burke, Virginia. A co-founder of the Maryland chapter of the Nuclear Freeze Campaign in 1983, Rev. Scott helped organize the Southwest Baltimore Tree-mendous Maryland initiative in 1993, bringing fresh, live plants and playgrounds to vacant city lots. Rev. Scott also worked as a labor organizer for the International Brotherhood of Electrical Workers from 1998 until 2000.
Rev. Scott found Unitarian Universalism as an adult, when in 1998 while re-reading Emerson, he was invited by a friend to a beer and chili cook-off at a UU church. It felt like home and he quickly became involved in all aspects of congregational life–Buildings and Grounds, Worship, Music, RE, YRUU. He was asked to offer a Sunday service and originated Soulful Sundowns, a worship service featuring contemporary musicians. Rev. Scott finally embraced this long call to serve in ministry.
Rev. Scott prepared for the ministry at Meadville Lombard Theological School, receiving his masters in divinity in 2008. At Meadville, Rev. Scott received the Jenkin Lloyd Jones Scholarship, the Atherton Scholarship, and the Von Ogden Vogt Scholarship for liturgical studies. Rev. Scott holds a BA from the University of Maryland, Baltimore County, and a Masters in Liberal Arts from St. John's College, Annapolis. A musician, audio engineer, and music producer, Rev. Scott has also worked as an electrician, an electrical code enforcement officer, and taught English, Writing, and Drama in several colleges, including Coppin University, in Baltimore.
In 2007, Rev. Scott founded TUUL-Belt Ministries, a practical ministry training people with construction experience to respond to natural disasters like Hurricane Katrina. Rev. Scott is the 2011 recipient of the Outstanding Contribution by a Minister Award from the Unitarian Universalists for Social Justice.
Though he graduated high school in suburban Bel Air, Maryland, Rev Scott was raised on the streets of East Baltimore. Growing up in a tough neighborhood made him resilient and inspired compassion for those who may not always benefit from our economy. His working-class parents struggled hard to give him a life better than what they had known, and this ethic of sacrifice and persistence seeped deeply into who he is today. "I have never expected anything to come easily nor to be simply provided," Rev. Scott shares. Coming from such humble origins attuned his concern towards those who have little material wealth and guides his values to this day. He is outgoing, has a strong memory, loves people and community, understands managing church buildings and grounds, and reads voraciously.
---
Revs. Anya and Scott met during divinity school and were married in 2007. They have wanted to serve as a co-ministry team since they met and fell in love. They were advised by other clergy couples to serve separate congregations for their first settlements. That sage advice is appreciated as they have had the time to learn their own strengths and weaknesses and attune their own ministerial identities. While working independently, they relied upon one another's guidance and support. They have also worked together at district, congregational, and community events and found how well their particular callings meet and merge. They read one another's sermons and encourage and challenge one another to be their best selves. They now long to unite their professional gifts to serve a single congregation.
Although Revs. Scott and Anya have been serving in separate congregations, they have already found ways to co-minister. On occasion Rev. Scott and Rev. Anya swap pulpits. On even rarer occasions, they were able to preach together, which they both love. They provided the program and worship at the weeklong UU Mid Atlantic Community Conference in 2015. They gave the keynote at the Metro New York Leadership Institute in 2014, and they co-created the Beyond Partisan Divide Toolkit for the UUA.
Rev. Anya has been at her current congregation for 10 years; Rev. Scott (who was a year behind Rev. Anya in divinity school) for 9 years. Revs. Scott and Anya meet regularly with other UU clergy couples.
When they take a weekend off, Revs. Anya and Scott like to explore, garden, listen to live music, and visit art museums.
Links: